Repair, maintain, and carry on overview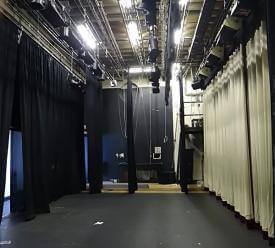 Here at Camstage we like to say 'when the show must go on' so if you've suffered a breakdown on vital equipment, we offer a 24-hour emergency support and call-out services for projection screens, stage curtains and stage equipment. If you are a theatre, cinema, school, organization or business, give us a call to schedule your call-out service.
Emergency repairs are available for most professional stage equipment, such as projection screen masking systems and more. So if you've had a spill on your screen and it needs a clean, or your curtain controller motor is jammed call us straight away and we will have a team with you as soon as we can or someone giving you telephone technical support in no time. Camstage offers onsite-repairs for most stage and curtain problems, we are able to fix or replace equipment such as lighting grids, pulleys bar systems and theatre tracks on site, the same day.
Your investment deserves proper care, so keep it running and lasting with regular preventative maintenance service inspections (PMSI) to minimise potential breakdowns.
Call-out services include:
Emergency support and call-out.
Load testing, inspection of lifting equipment.
Projection screen maintenance.
Auditorium speaker installation, maintenance and repair.
PAT testing.
Projection screen cleaning.
Stage curtain cleaning.
Fireproofing and flameproofing.
Camstage also offers spare parts and equipment through its online store stage-shop.com for companies and organizations that prefer to do the work themselves.
If you cannot find what you are looking for or you prefer a friendly voice, give us a call. Camstage will be happy to assist especially for when the show must go on. Email us anytime at sales-team@camstage.com.  Or fill out our contact form. Or call +44(0) 1727 830151 Mondays through Fridays 9am - 5pm GMT for more information. If it is an emergency, call now.
Camstage was formed in 1989. It is a leading UK supplier to cinema and theatre industries. Products include projection screens, stage curtains and acoustic wall panels needed in cinemas, theatres, places of worship, crematoriums, educational facilities, home cinemas and other venues. Services include design, installation and maintenance.