Large format projection screen cleaning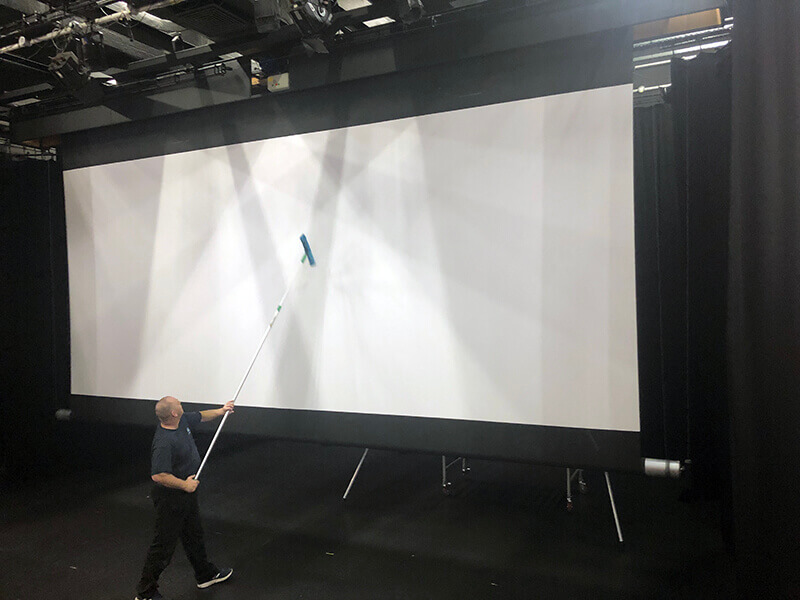 Over the years we have been providing projection screen cleaning services for some of the largest cinema chains across the UK, we have cleaned projection screens for our clients' multiplex cinemas to smaller independent cinemas.
We were inspired by a product developed by one biggest cinema screen manufacturers in the world to combat some of the messes finding their way to screen surfaces. This was the only product that they recommend using on their screens, removing the likes of ketchup, salsa and sticky soft drinks.
Over the years we have developed a process of cleaning the whole screen, we found that cleaning local areas sometimes whitens that part of the screen so we have refined our process to be able to clean the whole screen, keeping every area consistent and unsoiled. The cleaning process doesn't take a great deal of time. Screen cleaning can be completed in under two hours dependent on the size of the screen and severity of the mess.
During our time offering this service we found we were unable to clean older perforated screens due to the build up of dust in the perforations. When you try to clean an older perforated screen surface, it may streak. To avoid this issue, we recommend that dust is routinely brushed off the surface once a month with a soft duster as part of your maintenance program. This will ensure your picture quality stays sharp and will help the cleaning process. Again, with non-perforated screens dust build up can be an issue, if the screens are maintained over the years there should be no huge issues when cleaning. Screen cleaning should be done within a reasonable amount of time once the mess has been found. Unfortunately leaving any soft sugary drinks or food colouring residue on the screen surface will crystalise and infuse into the projection screen surface and will cause irreversible damage.
With a well-maintained screen that is regularly dusted off they can last for many years. Seven years would be the recommended maximum age of a screen we would clean. Large format roller screens, you have a little more time on the age of the screen as they're always moving and attract less dust. Never run your roller screen with a mess on the screen or after the screen has been cleaned, it needs to stay down for twenty-four hours to dry.
As a word of advice, screen cleaning is not a substitution for a new screen, it is almost like servicing a car, keeping it clean. Screen cleaning is not included in our preventative maintenance services.