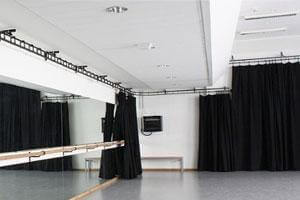 Stage and theatre curtain mechanisms
There are many types of curtain mechanisms so Camstage needs to ask you lots of questions to determine the most appropriate one for you.
We'll want to know where the curtains will hang, who will operate them, and how often they will need to be moved.
Electrically operated curtain mechanisms are easier and faster to move and are preferred by professional theatres that have lots of scene changes. A school, community hall or commercial organisation may prefer a manually operated walkalong operation.
We'll discuss all the different uses you may have for your space and we'll recommend the mechanism that will be best for you and your budget.
You also need to bear in mind you'll need space to accommodate the mechanism itself.