Curtain Styles and Stage Layout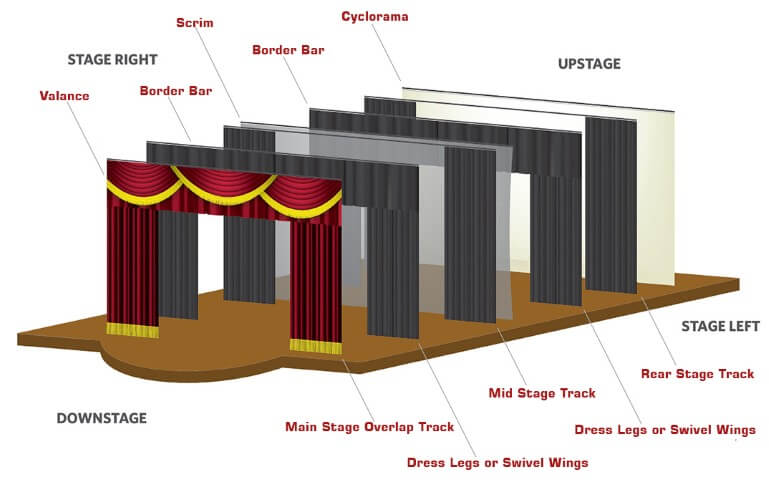 Overlap, Traverse, Traveller
Overlap curtains with a pleated header are the most common curtains on a stage. They consist of two overlapping curtain halves that are attached to two overlapped curtain track sections. The header of the curtain has hooks that are connected at regular intervals onto carriers, rollers or runners which are guided by cord or steel wire rope. These are attached to the lead carrier or master carrier that pulls the curtain to the open and close position along the track.
Festoon Curtains
Festoon curtains also known as Austrian curtians very similar to Venetian consist of multiple fabric panels joined together vertically to form a single piece of cloth. This curtain can be sewn with as much as 200% horizontal fullness, depending on the fabric used. This curtain operates through multiple lift lines, these are fed through rings sewn on to the vertical seams at regular intervals. These draw lines are then connected to the bottom of the curtain.
Tableau Curtains
Tableau or tab curtains are two pleated curtains with open ties which attach to a bar with a centre overlap, just like an overlap curtain. Tab curtains open diagonally by pulling up into two large scallops creating a draped opening. This is achieved by running cables through rings sewn diagonally across the back of the curtain, creating a combined opening and lifting motion when the lines are pulled. The shape of the scallop and the width of the revealed opening are mostly determined by the position and angles of the pulling lines that can be motorized or hand operated.
Wave Curtains and Ripplefold
Wave or Ripplefold style curtains have a consistent 'S' shaped curve rippling across the span of the track. The ripples are created by carriers corded together to create a consistent wave. These styles are often seen in hospitality installations such as hotels and banquet rooms. The ripples or waves are made by snaps on flat panels of fabric sewn on the header of the curtain. Giving the ripple effect to the curtain and the fullness you desire. Once you attach the curtain to the tracks, they will easily slide open and closed.
Valences, Borders, Soft pelmets

 

Valances or borders are shorter curtains that are used to hide or dress the stage area.

Valances accompany the main curtains as an accent to the front of house, making them look luxurious and plush. There are many types of valances available, from pleated, scalloped or trimmed with braid.

Borders, sometimes known as masking can be used to hide stage equipment from the public. Borders can accompany stage blacks, such as wing curtains or mid stage curtains.

Borders or valances can be fixed using ties or hooks, alternatively they can be fixed using staples and simple materials such as Velcro.

Pleated Valance Border

Swags with Pleated Curves Back
Austrian Festoon Scallops
Swags and Tails
Single Swag and Tails
 Cross Over Swags
Consecutive Swags
Pleated with Scallops
Flat Border
Arched with Box Pleat
Stepped and Braided Valance