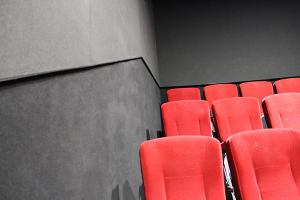 Wall carpets and flooring for cinemas, theatres and multi-use spaces
There's much more than aesthetics to consider when choosing wall carpets and flooring for auditoriums and other public spaces. Camstage has the expertise to help you decide what meets your needs.
Once we have a full understanding of your project and you're happy with our recommendations and proposal, we'll visit you on site.  We'll discuss the space and how it's used, then advise you on the most suitable wall carpet or flooring.
Our service includes measuring and estimating, through to supply and installation. Choose from off-the-shelf standard designs or a bespoke option in your company colours and incorporating your logo.  
We supply only the best quality wall carpets and flooring, using a trusted partner who we've worked with for many years. The products are manufactured to the highest standards. While they are all O-rated some even exceed current regulations.

Wall carpet
Wall carpet, or wall cord as it's also known, not only looks good – it's extremely practical too. It's ideal for auditoriums such as cinemas and theatres for several reasons, for instance it is acoustically absorbent. So, when used in conjunction with our acoustic wall panels, it helps to control sound reverberation.
And because it's so hardwearing, it's more practical than painted walls as it doesn't mark or scruff as people brush past.

Flooring
Whatever type of floor covering you need, we can supply and install it.
Hard flooring is better for foyers and between seats in auditoriums because it's easier to clean and maintain.
Our carpets are hard wearing and can sustain heavy footfall. Carpet also brings warmth to areas such as corridors and aisles, as well as function rooms.  And of course it will absorb sound – ideal for multi-screen cinemas and multi-function spaces.