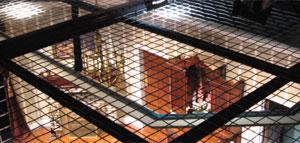 Walking galleries
Walking galleries offer access to stage lights, audio cables and stage rigging high above a performance space or audience. They range from a narrow, traditional catwalk to an open wire grid.
Camstage can help you choose and install an aerial access system when you are building or renovating a theatre, auditorium, museum or civic hall. The company can help determine load calculations, suggest designs, oversee construction of the wire mesh and do installation. We also offer annual maintenance and related services.
All elevated platforms provide permanent access to moveable assets like flood lights, stage lights, speakers and stage rigging. The traditional catwalk and the wire netting replace moveable scaffolding or ladders.
Wire grids transparent
The major difference between a catwalk, a fixed position walkway, and netting is the width of the surface. Netting can cover part or all of a stage or an entire room. That coverage limits the possibility of falls. It also opens more possibilities for the location of lights and sound then a more restricted traditional catwalk. Yet the openness of a grid allows light, sound and energy transparency.
Using a tension wire grid system for stage rigging eliminates the need for safety training. A properly installed grid is as level as a floor and safety harnesses also are no needed. This means children also can access the grid.
A non-moveable system also allows stagehands fast access to lighting, projectors, sound equipment and other rigging during performances or between scenes. The relights or technical changeovers happen easily.
Every grid bespoke
The most cost-effective tension wire system begins with a steel frame in a modular shape that supports woven wire. The modules are usually square or rectangular and connect to form a netting. Using different size wire mesh modules lets the completed netting avoid columns, architectural features, or heating, ventilation and air conditioning ductwork.
Installed wire mesh systems also come in a variety of configurations, including donut, oval and combinations. These bespoke platforms can follow the shape of a stage, historical building or treasured truss system. They can be created with one frame, sometimes called long wire. Or with a different layout of support beams.
The best units feature no exposed bolts or sharp edges. They also are made so the difference between the frame and wire grid is less than 3/16th of an inch, creating a very flat, walkable floor. Available accessories such as handrails increase safety.
The frame and wire comes in a wide range of colours so the finished grid blends seamlessly into a facility. Off-site production for the modular units reduces installation time.
Camstage works with several manufacturers so can help select the one that meets your budget, schedule and other needs.
Grids expand access
Tension wire grid netting systems work in a variety of performance and exhibit spaces. The aerial access is an integral part of theatres and school stages.  The systems also are installed at museums, conference centres, multi-use facilities.
Walking galleries consisting of the woven wire panels are installed at:
London Science Museum's Atmosphere exhibition. The rigging platform at the exhibit supports a complex projection system and provides safe access for technicians.
Edinburgh International Conference Centre in Scotland. Nearly 1,000 square metres of SkyDeck tension wire grids, walkways and handrails allowed second-fix contractors to safely work three floors above those doing main floor renovations. The system now allows adjustments to lighting and sound as the centres needs change for meetings, exhibits and other events.
Everyman Palace Theatre in Cork, Ireland. A tension wire grid system at Everyman replaced a timber lighting bridge that spans the stage. An unusual aspect of the project is a separate frame holds the modules, allowing them to be removed when necessary. The transparency of the overall system allows the 1897 theatre to showcase its  Victorian architecture such as its elaborate plaster ceiling.
Sky-high classrooms
Some companies in the United States and Europe suggest a grid enhances learning opportunities.  It is wide enough for a teacher and students to assemble for hands-on learning about stage lights and rigging. The grid also allows wheelchair users access.
The manufacturers of the grid system recently shared success stories. inc example installations include: 
Woodbridge School in Suffolk, England. The private school for those 4 to 18 chose to install a tensioned wire grid over its 343-seat auditorium and stage in its Seckford Theatre. The CableNet grid at the school's theatre provides an ideal teaching surface. 
The Houston (Texas) High School for Performance and Visual Arts. The school covered its entire stage, with a 1,800-square-foot Sky Deck in its new black box theatre.  The school ranked the system high because students could easily access and learn about lighting and stage rigging without special safety training.
Size no limit
The tension wire grids span the space dictated by need and budget. Some are as narrow as the light bridge at Everyman's in Cork. The largest, for now, is found at the Little Caesars Arena in Detroit, Michigan.
A Sky Deck grid spans the entire Williams Dance Lab for the Houston Ballet Theatre. The Texas ballet company, which also rents out its facility, wanted maximum flexibility to arrange lighting and stage rigging for performances, workshops and events. The ballet company's flat, easily accessible grid means no extra safety training is needed for students. That was a plus the for ballet company.
A 2.500 square metre grid covers the entire Bournemouth International Centre's main Windsor Hall just under the roof. The CableNet system at the centre, 40 metres high, took seven weeks to install. It used 36 miles of steel cabling and 75 tonnes of steel. The wire mesh could hold the equivalent of 20 double decker buses. Two trap doors built into the system allows easy hoisting of equipment. The openings, near the ends of the stage, allow spot lights to follow performers to the stage in Dorset. 
An even bigger wire grid system fills the Little Caesars Arena in Detroit, Michigan. The facility uses 372 SkyDeck modular panels to create 43,000 square feet (3,995 square metres) of walking surface that also serves as the ceiling for those attending concerts, basketball or hockey games and other events.
Mike Shefka, a senior project manager for the arena project, said riggers like the new platform as it eliminates maneuvering over each other on rigging beams. That maneuvering was necessary at the buildings the new arena replaced. The large flat surface lets riggers set up a show faster and with more flexibility.
Camstage will continue to look for and share examples of unique installations
Grid creates lighting canvas
The tension wire grid also can provide a base for lighting. The Little Caesar Arena again showcases how the grid can act as a scrim
By hanging the lights from the grid, the audience doesn't see what's above and the lighting designer has an open play field, Shefka told a trade magazine.
About 1,400 Elation LED lights across the Sky Deck create a multi-coloured light show that changes with arena events. For example, at a Kid Rock concert the underside of the SkyDeck looked like the American flag at times. At others, a variety of patterns and chases matched Kid Rock's music.
Some venues prefer positioning lights above the wire mesh. The openness allows the light to stream through with no degradation to beam quality or intensity.
Interested in the possibilities? We look forward to hearing from you via our contact form, by email or on the phone.