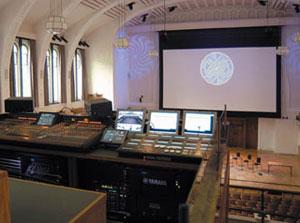 Theatre and multi-use spaces
Many of Camstage's clients for cinema projection screens are theatres or organisations such as offices, hotels, schools, and community halls that have spaces with multiple uses.  They don't use their screens all the time so they need to move them easily and store them neatly.
We have a great deal of experience in this area and can advise you on the best type of screen for your space and usage. We can often supply off-the-shelf products but we also design and build screens and frames to fit more specific and complex needs.
We'll make sure the screen and frame are easy to move and set up, and we'll advise you on the best type of surface for your environment.
Acoustics are one of our specialities so we'll give you lots of guidance on the most appropriate sound control system for your space. You can even have the sound behind the screen to achieve the same effect as a professional cinema.
Projection screens best suited to multi-use environments are roller screens, large format roller screens  and flying frames because they can be stored unobtrusively when the space is being used for other purposes.