Curtains create perfect backdrops for ceremonies, product launches, digital production
The right cloth can change the mood or scene in a room or enhance your media production. Camstage can create dramatic backgrounds to set the mood for ceremonies or product launches with cycloramas and star cloths.
Camstage can make image mixing in film, tv and photography production easier with chromakey curtains. Or we can use curtains to transform ugly walls into spaces ready to highlight your products in a classy environment.
Cycloramas create illusions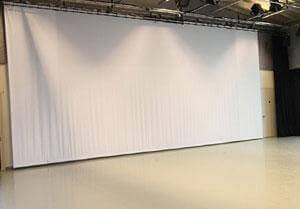 Cycloramas are a special curtain type that is usually stretched tightly or weighted at the bottom to create a smooth  surface at the back of a stage. Frequently, the cloth is stretched tight in an arc around the back of a stage set. Some prefer a flat, one-dimensional setup.
Cycloramas often depict a sky or unlimited space. With projection and clever lighting, the setting can change from day to night or to different locations..
Camstage also can hang the cloth so it curves onto a studio floor and achieves  an illusion that the floor continues into infinity. We can set up the curving backdrops a photographer needs to focus attention on a product instead of the background.
We suggest using a very wide material as seams tend to interrupt the flow. We offer a variety of widths, starting at 3m and up to 12m. Most often a canvas or muslin works best.
The colour depends on the intended use. Most often the material is white or grey.  We also offer natural and black. But when a  cyclorama is used for some photography a "green screen" creates a better masking backdrop. Look for several possible materials and colours  in our swatch area.
We can quickly design, order and install what you need.
Star cloths that sparkle
The combination of lights and cloth can create a dramatic impression on stage, at exhibits and at special events.
Star cloth is a self-lined curtain with LEDs or embedded fibre optics. The base material is usually a heavy, black wool serge but other colours and materials are possible.The lights are usually evenly distributed across the cloth's surface. But the pattern can be a night sky, a city skyline or other arrangement.
We find star curtains can provide colourful venue masking and decoration as well as creating a dramatic backdrops. Sometimes, the best effect is achieved by using multiple cloths. Today, advances allow the fibres to change colour or twinkle according to the set-up of the light source.
Let us help you decide what type of lights and cloth will best serve your needs.
Chromakey curtains a great digital tool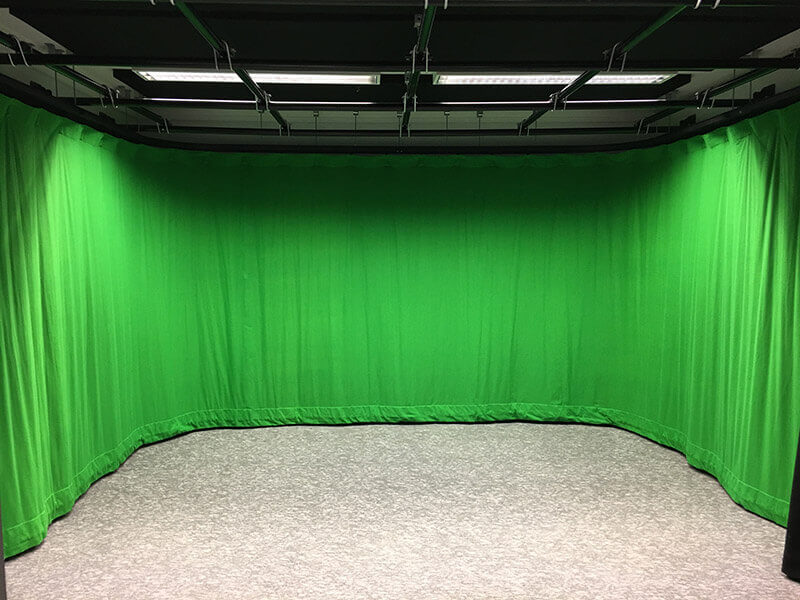 Chromakey (chroma key) curtains make it possible to layer two images or video streams based on colour hues. The background "disappears" and allows a previously produced image to appear instead with the foreground image.
The chroma key compositing or chroma keying technique of removing one colour - often green - from one image to leave a spot to insert another is frequently used in the film, gaming, video and TV industries. It is increasingly used in digital photography where a subject needs to be cut and pasted  onto a background.
This technique of combining images is often called green-screening. Indeed, we find the most popular colours are green and blue. That's probably because those two colours are the most unlike human skin. But any colours will do  for backgrounds  if they are uniform and different. The key is that no part of the subject being filmed or photographed may duplicate the colour used as the backing.
Our most popular fabric is a wool serge, with TV blue, ultra blue, chromakey blue and chromakey green the most often chosen colours.  We also offer different fabrics in different widths of up to 6.2m. We can fashion a chromakey curtain to meet your needs. We also offer different cloths in different widths.
We can help you select the right material in the right colour as well as the hardware needed to hold this backdrop.
Scrim gauze curtains to create mystical foggy feel
Scrim gauze curtains are used to achieve a bleed-through effect and can reflect and transmit light giving the illusion of magically revealing objects placed behind it. When a scrim is lit from the front correctly it will appear opaque, while when lit from behind it becomes transparent. A scrim can also dull the image, creating a greater sense of depth. A dreamy misty look can also be achieved by lighting a scene from behind a scrim. Scrim curtains can also be used for projecting images on and can be painted to create backdrops.
Scrim curtains are bespoke made, we recommend using Sharkstooth gauze fabrics either 100% cotton or polyester. These cloths are available in various widths and colours.
Scrim backdrop cloths can be tie taped to a barrel or hung off a stage track. These cloths can be be weighed down to keep the material taught and wrinkle free by feeding a bar through a pocket sewn into the bottom hem.
Curtains to dress up walls
Curtains hanging from a perimeter track may quickly transform a space for you. We have used this technique at a manufacturer who wanted a classier backdrop for product reveals, press events, and client showcases but needed concrete walls back during manufacturing.
We have a wide range of all-purpose stage cloths. We'll advise and help you choose the most suitable for your purpose.