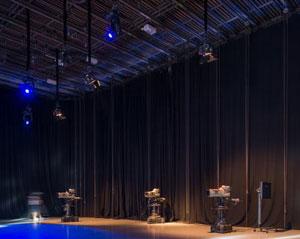 Controlling film set, editing suite and sound studio acoustics
On a film set, or in a sound studio, acoustics are a vital element in the quality of the results, so you need to control sound, eliminating reverberation and preventing noise travelling in or out. Camstage's acoustic wall systems also known as acoustic panels will help you improve audio quality.  
There may be times when you need to change the acoustics in a studio, or on a TV or film set, perhaps because you have a live audience for instance. Or you may need to change to cyclorama or chroma key backdrops for different lightening, or to achieve a particular effect in filming, while keeping the space acoustically balanced.  A neat and cost effective way to do this is by using curtains and a perimeter track. Not only will this balance the room acoustically, it's also aesthetically pleasing.
Acoustics are one of our specialist areas. Drawing on our vast experience in film and sound studio acoustics, we'll work with you to design what you need to ensure the success of your production