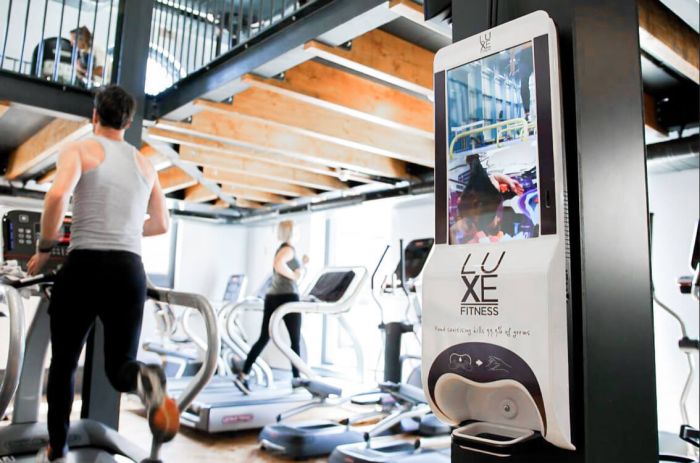 Hand sanitiser stations
In response to the Covid19 pandemic, Camstage has introduced a range of state-of-the-art hand sanitizing stations to protect your staff and customers. The stations let clients safely welcoming them back to their venues after the lockdown.
The range of hand sanitiser stations includes a premium 22" LCD capacitive touch screen kiosk with automatic IR dispenser. Fixing points on the unit make wall mounting an easy solution for you or Camstage engineers to install.
Clients can opt for a more mobile solution by upgrading to a freestanding kiosk. Camstage offers an optional solid steel base. This station can be 4G enabled to avoid network restrictions or Wi-Fi issues. Ethernet & Wi-Fi  are included as standard.
A built-in IR sensor offers a clean, safe and completely touch-free way to dispense hand sanitizer. The sensor avoids cross infection within your venue.
You can automatically adjust the number of dispensing times to 1, 2 , 3 or 4. The 3.6 litre internal reservoir can provide up to 9000 pumps of antibacterial and anti-viral gel with a volume of just 3600ml.
Depending on the type of hand sanitiser you use; foam, gel or water based alternatives, our optional dispenser heads can dispense pumps at 0.4ml, 1ml or 1.5ml.
Maintenance
The 10-point touch screen offers a safe and sanitised display which can be easily maintained and cleaned due to its die cast plastic moulded design. The design makes it easy to clinically wipe clean. Removal and installation of the internal reservoir for refills takes a minute.
Personalised
You can personalise each unit with your own logo. Or Camstage designers can help as the optional logo bundle included design. It is easy to add a printed logo to the front door via a vinyl wrap logo to each station. 
Display, schedule and upload content instantly to each station with the Cloud Digital Signage Collection.  This upgrade allows you to choose the latest WHO and NHS England media content, Visitor Management Systems, or your own web site! A simple and reliable system lets you  remotely manage and publish your content to a network of screens. The system fully integrates with the display with smart alerts and reporting.
Make it work for you
This hand sanitiser kiosk can include a Digital Signal CMS with dispenser usage reports and refill alerts. Simply activate the free dispenser management app and it will send automatic updates to your account to notify you when your dispenser is running low or requires a refill of sanitiser solution. Download usage reports in CSV format for full control.
What we use
Our hand sanitiser foamer solution is an alcohol-free, advanced hand sanitiser that is manufactured to contain one of the fastest acting and most powerful germ-killing properties available today. The solution is  effective within 30 seconds and killing 99.999% of viruses and bacteria. Yet the solution still provides a soft and safe feel to the skin. Using the latest advanced barrier technology not only provides rapid kill against bacteria and viruses, but provides a residual barrier onto the hands that continues to work for at least 6 hours after the initial application.
Ask Camstage today how we can make your company safer for all.