Truss systems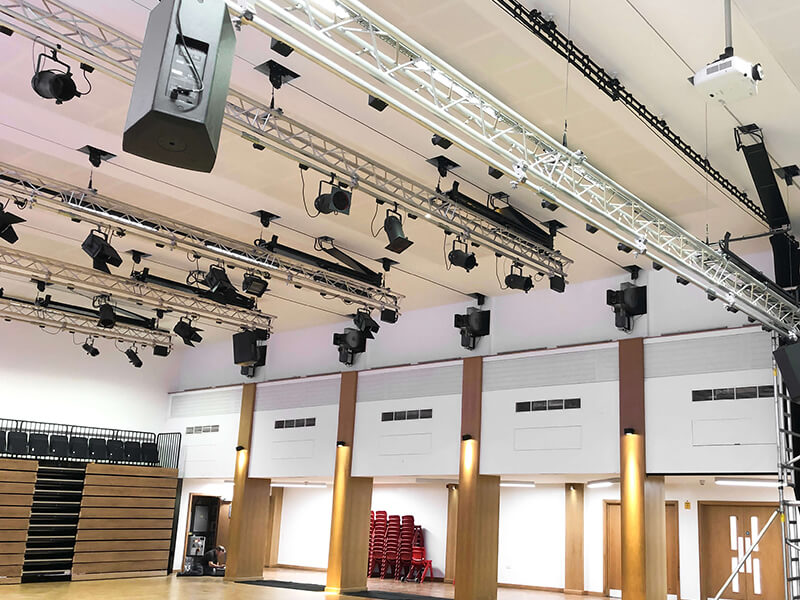 Here at Camstage we like to use British made aluminium Truss systems. Truss systems are perfect for any area where rigging, hanging or suspending equipment is needed. Trusses are structural systems that are able to hold serious amounts of dynamic weight. Making them perfect for creating stage grids, installing lighting bars, projection screens frames, photographer clouds and more. No venue is the same, which is why we work with our customers to create bespoke truss systems specific to your venue.
Our Truss systems and stage engineering products are used in not only theatres but in many other venue types too. Most people think truss systems are only used in concert halls, theatres and live events, they can be installed in any buildings where rigging is required. For example, truss systems can be used in arenas, TV studios, restaurants to name a few.
Many projects and venues benefit from the use of trusses. Trusses allow the freedom to hang, mount or install equipment across a stage area and wherever it is needed. Any hanging equipment can be static or motor operated like chain hoists or pilewind.
Camstage supplies only the best high quality made products, which is why there should be no concern that these systems are right for your venue. Sections of the truss are connected together to create a  structure to allow you to hang lighting fixtures, audio, projectors and all stage equipment with no problems. These aluminium frames can be connected together to create larger fixtures or create different shapes.
Suspending any equipment can be serious and potentially dangerous. Stage equipment can have changing loads, so having a system in place which can support your equipment safely is important for your business. Wether your system is permanent or touring, our bespoke aluminium frames can make sure your equipment is suspended and installed safely.
Here at Camstage we can support you with your requirements and design you a truss system that is right for your venue. Not only can we provide support before and after the installation, but we can also ensure the quality and upkeep of your system with our preventative maintenance  service inspections (PMSI) and LOLER inspections.