Curved, 360° and S shaped tracks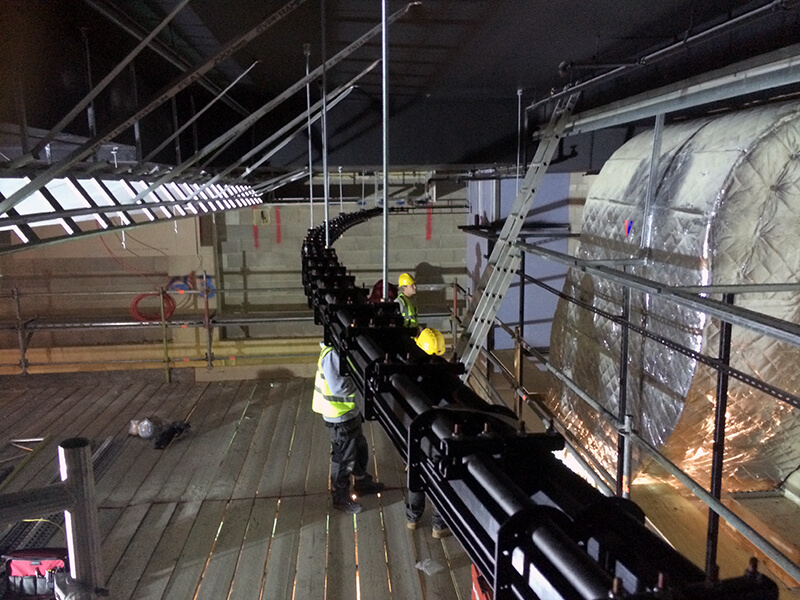 Here at Camstage one of our specialities is designing and installing curved tracks. These tracks can be any radius, even with multiple curves.
Tracks are mainly thought of as main tab stage curtains, but these curved and S tracks can be sat in front of your new deep curved cinema screen, giving your customers that true immersive cinema feeling. Imagine this, the curtain starts to open, the lights start to dim and the roar of the music starts to rumble around the room, the projector starts flickering on and the roll out of the new blockbuster comes to life, in its full glory.
One of the more unusual applications for our tracks are in factories, tracks can be hung at any heights in your work space, you can have items hanging off the track like a conveyor belt in the sky moving and snaking items along slowly and methodically all day, our tracks are very robust and very easy to maintain. Especially with our yearly preventative maintenance service inspections keeping things tip top.
Electric tracks can be supplied with multi-speed controllers so they can run as fast or slow as you like. This works perfectly in factory settings and in theatres where you may need to open slowly for that dramatic effect. 
Tracks can be cord operated, manual winch, walk along, electric belt drive, electric winch, or electric chain driven. Track motors can be integrated with DMX on request.
Tracks are custom built to order, they can be wall-mounted, ceiling-mounted, mounted to 48.3mm barrel, or a mix of all by our in-house engineers.