Acoustics fit for a president at the US Embassy in London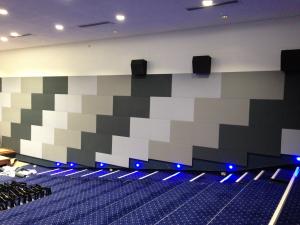 The Embassy of the United States in London approached Camstage Ltd. for help with a dated auditorium with parallel walls. The auditorium's  echoing acoustics were not up to standard for a U.S President.
"We worked very closely with the embassy on design as it had to be just right," said Camstage's Sue Camastra, who leads most of the design work. "After all, some of the most important people in the world use the auditorium."
After guiding embassy representatives through their options, work on the improvements started in January 2013. The project was done in record time, with very little disruption and complete satisfaction.
Details and photos from the work at the embassy, which includes Camstage's own ClothGrip™ acoustic panels, are in project section.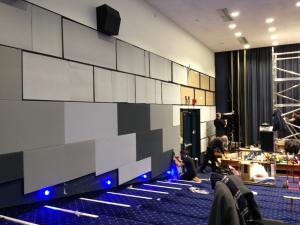 Camstage was formed in 1989 and is known as a leading UK supplier to the cinema and theatre industries. Products include projection screens, stage curtains and acoustic wall panels needed in cinemas, theatres, places of worship, crematoriums, educational facilities, home cinemas and other venues. Services include design, installation and maintenance.