Camstage's cinema work a treasure in Mondrian
The long-awaited Mondrian hotel opened Tuesday, Sept. 30, on the Thames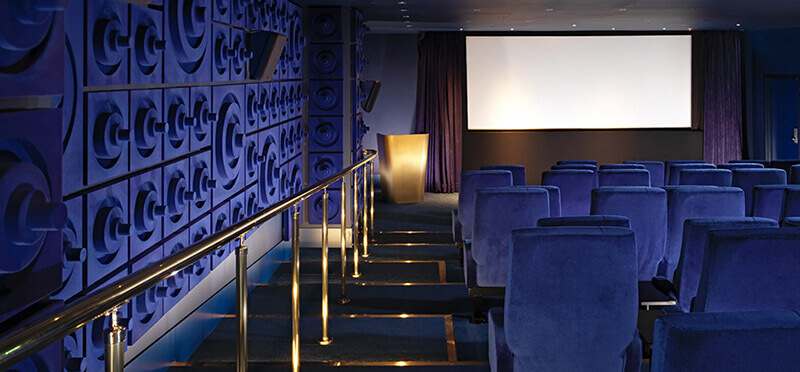 River in London's Southbank neighborhood.
Go past a ship's hull in the lobby. Check out the meals and drinks sure to impress. Enjoy the rooms that reflect a transatlantic journey via a ship. But also make time to check out the small, intimate cinema where Camstage Ltd.'s quality workmanship contributes to a first class experience.
Camstage, a leading do-it-all contractor in the professional cinema and theatre industry, was a subcontractor for its latest bout with boutique cinemas. We wrote about our work at the hotel back in May 2014. Camstage installed a top-of-the-line screen in the 56-seat boutique cinema that has state-of-the-art audio visual equipment.
Camstage recently returned to the 359-room posh hotel to finish fitting the screen frame with moving side masking, curtain track and curtains in the luxurious cinema designed to attract the film industry. The hotel's website says this about the room:
"Styled and furnished by iconic British designer Tom Dixon, the state-of-the-art screening room is London's newest destination. With 56 seats, 4K resolution and Dolby 7.1 Surround Sound, it is the ideal venue for all your entertainment needs including private and press screenings, junkets, presentations and product launches. "
The setup includes rear-mounted speakers and a mini-perforated Matt white screen surface and a T300 curtain track and curtains. The hotel sits in a refurbished -- and greatly improved -- Sea Containers complex. Word of the Morgans Hotel Group's involvement hit the streets in 2011. The group also operates two hotels in central London: Sanderson and St Martins Lane. A Mondrian hotel is located in Miami, LA and New York, with two more hotels planned in Doha and the Bahamas. Mondrian at Sea Containers House is the first European hotel in the brand.
Camstage was formed in 1989 and is known as a leading UK supplier to the cinema and theatre industries. Products include projection screens, stage curtains and acoustic wall panels needed in cinemas, theatres, places of worship, crematoriums, educational facilities, home cinemas and other venues. Services include design, installation and maintenance.
Email us info@camstage.com or call +44(0) 1727 830151 for more information.