Camstage helps re-open Lakenheath's theatre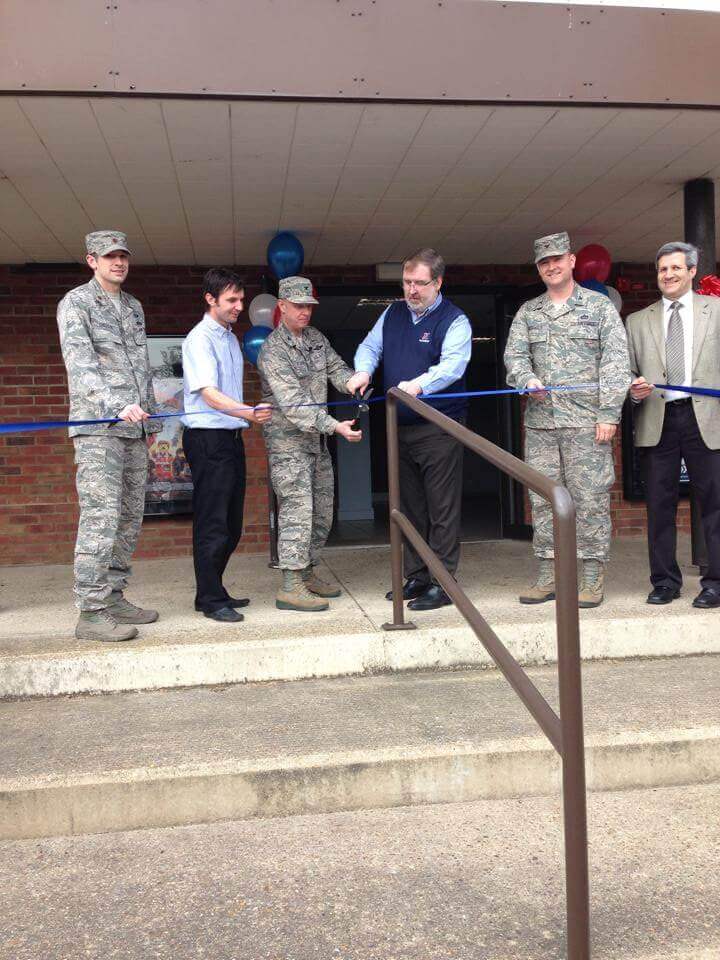 People of all ages came to the grand re-opening of a theatre at the UK's Royal Air Force Base Lakenheath, which the United States Air Force calls home. A decision to reopen the cinema, closed five years ago, led to a major renovation from floor to ceiling.
Camstage Ltd. most visible contribution is the installation of 227 seats, complete with drink holders in the arm rests. Less noticeable, but equally important to enjoying today's films, is Camstage's installation of acoustic wall panels. The panels help focus the sound best for patrons. Camstage also provided a theatre fire curtain, a requirement added to the project in its last weeks.
Project bid specifications estimated the rehaul of the theatre could cost up to 3.4M GBP. Long-time contractor Vinci Construction was awarded the main contract in August 2011.
Camstage's relationship with vendors helped keep the theatre's reopening on time.
The theatre remodeling gave Camstage the opportunity to showcase its design skills and ability to provide a complete cinema experience. See PROJECT PAGE for photos.
Located to the south of Lankenheath, Suffolk. The RAF Lakenheath base was built in 1941 as a decoy air force base to the nearby RAF Mildenhall. In late-1941, it became fully operational by the Royal Air Force. In November 1948, it was transferred over to the United States Air Force and is the home to 48th Fighter Wing, with the F-15 strike aircraft and Pave Hawk helicopters. It was at the centre of a tragedy in January after a Pave Hawk crashed on Cley Marsh killing four air crew.
Vinci Construction UK is a national construction and facilities company and is part of VINCI, a world leader in concessions and construction. The company offers a fully-integrated service – from inception, ground investigation and remediation, through to project completion and beyond to the delivery of operational solutions.
Camstage was formed in 1989 and is known as a leading UK supplier to the cinema and theatre industries. Products include projection screens, stage curtains and acoustic wall panels needed in cinemas, theatres, places of worship, crematoriums, educational facilities, home cinemas and other venues. Services include design, installation and maintenance.
Email us anytime at info@camstage.com or call +44(0) 1727 830151 Mondays through Fridays 9 am-5 pm GMT for more information.