Camstage delivers seats, walls, curtain to military base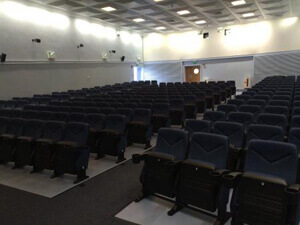 Camstage Ltd. returned to military duty to renovate a moth-balled cinema at the Royal Air Force Base Lakenheath.
Vinci Construction hired Camstage to provide 227 seats, acoustic wall panels and a fire curtain as part of a 3.4M GBP renovation that began in August 2011. Changes to the two-story building included a brick-skin so it would match the rest of the base, new roofing and entrance. Inside, the upgrade included surround sound, a digital projection system, lighting and the Camstage work.
A decision to reopen the cinema, closed five years ago, led to a major renovation from floor to ceiling.
Cinema seats recyclable
Camstage Ltd. most visible contribution is the installation of 227 seats, complete with drink holders in the arm rests.
The Roma seats were made using an injection moulding process to create the high impact polymer side panels. The process ensures each component is identical, ensuring a quick and easy installation.
The seating is completely recyclable and its modular construction allows for partial replacement. The Roma seat design with a rounded back and full cushions is designed to provide comfort.
New acoustic work aids
Less noticeable, but equally important to enjoying today's films, is Camstage's installation of ClothGrip™ acoustic wall panels. The panels help focus the sound best for patrons. The ClothGrip™ sound absorbing panels also known as acoustic panels are used by a wide variety of clients to control sound in many different environments from multiplex cinemas and professional theatres to TV, film and sound studios
Today's digital projection and screen surfaces altered sound requirements. The Camstage panels, available in a wide range of colors, were installed on the back wall.
Fabric barrier needed
Camstage also provided a fire curtain, a requirement added to the project in its last weeks. Changing laws and experiences with fires led to the last-minute need of a fire curtain. The dark grey curtain is designed to contain the fire, allowing more time for an audience to escape during an emergency. The chosen curtain also contains smoke and is a routine for Camstage, the UK's leading cinema supplier and installation.
Project bid specifications estimated the rehaul of the theatre could cost up to 3.4M GBP. Long-time contractor Vinci Construction was awarded the main contract in August 2011.
Customer pleased
Stephen Brundell of Vinci Facilities praised Camstage for its work, including making deadlines. He also rated the company's communication skills as very good.
"Once again you have managed to meet the set deadline! I would like to thank you and your sub-contractors for this and all the work you have done for us over the past couple of months."
Others also praised Camstage for its work. For instance, in a February 2014 letter to Sue Camastra, Camstage secretary, from Rex Oliver, Vinci Facilities contracts manager: "I have today attended the monthly Contract Meeting at RAF Lakenheath at which most of the senior base personal were presentAt the top of the list was the Base Theatre Project which was successfully completed on Friday 14th February, On time. Many thanks again for yours and Camstage's part in achieving this results."
Located to the south of Lankenheath, Suffolk. The RAF Lakenheath base was built in 1941 as a decoy air force base to the nearby RAF Mildenhall. In late-1941, it became fully operational by the Royal Air Force. In November 1948, it was transferred over to the United States Air Force and is the home to 48th Fighter Wing, with the F-15 strike aircraft and Pave Hawk helicopters. It was at the centre of a tragedy in January after a Pave Hawk crashed on Cley Marsh killing four air crew.
Vinci Construction UK is a national construction and facilities company and is part of VINCI, a world leader in concessions and construction. The company offers a fully-integrated service – from inception, ground investigation and remediation, through to project completion and beyond to the delivery of operational solutions.
Camstage's military work included work at Bovington camp in Dorset and work on a tank simulator. Camstage was formed in 1989 and is known as a leading UK supplier to the cinema and theatre industries. Products include projection screens, stage curtains and acoustic wall panels needed in cinemas, theatres, places of worship, crematoriums, educational facilities, home cinemas and other venues. Services include design, installation and maintenance.