Ipswich School rehires Camstage for CamStyle™ acoustic panels and curtains.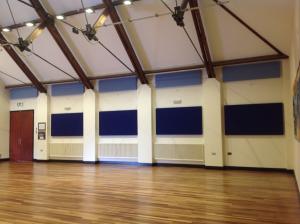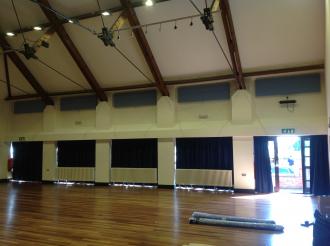 A+ work at Ipswich School in Suffolk earned Camstage Ltd. the right to complete three more projects at the 600 year old school.
Camstage, a leading UK cinema, theatre and stage supplier, often works with schools needing performance areas, window curtains and similar needs. At Ipswich , Camstage has helped the independent school fulfil its mission of creating a nurturing environment for students age 3 to 18 in four stages.
The first stage, in 2012, had Camstage working in the theatre area. The impact was immediate. Camstage dressed the lobby windows with curtains 9m wide. The door was improved with a 7m-track and curtains. That helped set the tone for the nearby stage, where Camstage hung the 9.5m-wide front of the house stage curtains and valance
That was followed by more curtains and tracks for the Rushmere Sports Centre which Ipswich school took over in September 2012. Camstage worked in the centre's large (main) bar, sports bar, office, stairs, gym and snooker hall.
CamStyle™ acoustic panels perfect at Ipswich
Then in the summer of 2013, Camstage crews returned to put up new curtains and CamStyle™ acoustic wall panels in a major remodelling of an assembly hall.
The panels are offered in a wide range of colours. The quick-to-assemble panels also adapt easily to renovation needs and are good for the environmentally aware like Ipswich.
Camstage fits into clients' calendar
Fourth stage was curtain tracks, curtains and linings in five classrooms. This time, crews were able to install curtains that matched one of the school colours. This time the work took place during the school year.
Crews were careful to work around the students' schedules, installing new tracks and 11 sets of Oxford blue curtains and matching linings in five classrooms. All adhered to a tight timetable to ensure no classroom face-to-face time was lost.
Ipswich already has arranged for Camstage to return for another project in spring 2014.
Ipswich school is a co-educational and boarding school which can trace its senior school start to 600 years ago. The newest school is its nursery facility.
Camstage was formed in 1989 and is known as a leading UK supplier to the cinema and theatre industries. Products include projection screens, stage curtains and acoustic wall panels needed in cinemas, theatres, places of worship, crematoriums, educational facilities, home cinemas and other venues. Services include design, installation and maintenance.