Getty estate adds home cinema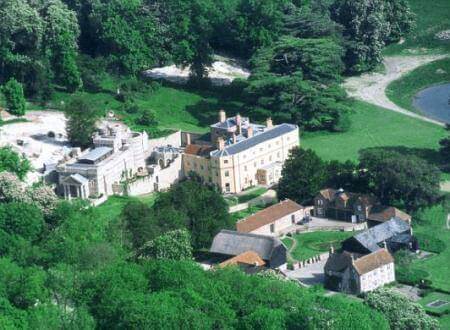 Camstage Ltd. was invited four times for home cinema projects at the Wormsley estate, which was first restored for multi-millionaire and film enthusiast, Sir John Paul Getty.
The Getty family's tenure of the 2,500-acre estate began in 1984 with Getty laying plans for a comprehensive restoration of the 18th-century Wormsley. He added a magnificent library that would house his collection of rare manuscripts and bindings, a private cricket ground and a home cinema that included a ceiling replicating the Hollywood Walk of Fame with its five-pointed stars.
Getty who loved old films, especially those directed by John Wood, always reserved space for his own cinema in all of his homes. At Wormsley, he turned to Camstage for assistance when it was time to modernize. The company first upgraded his home cinema in the Buckinghamshire mansion in 2001 by retrofitting a new screen.
Camstage saves butler
The St. Albans-based cinema supplier and installer returned in 2003, 2010 and 2012 to ensure the Wormsley cinema kept pace with the changes in the film industry. Camstage crews replaced the screen masking system, masking cloths and curtains. One member even saved an important piece of film memorabilia in the room filled with it. The butler was showing the crew memorabilia authenticity documents when he brushed against the lamp that was in the film Casablanca. Fortunately, a quick Camstage employee caught it so the lamp from the "play it Sam" scene survives.
Films were so important to the American-born British philanthropist that Getty donated £40m to the British Film Institute, which helped finance the transfer of old British films from perishable nitrate stock to a modern medium at the BFI's Conservation Centre in Berkhamsted. He also helped in the purchase of the institute's headquarters at Stephen Street in London and assisted in the creation of the London Imax Cinema and the Museum of the Moving Image. (Camstage worked at the now closed museum as well as the British film institute.)
Younger Getty opening estate up
Although Getty died in 2003, his wife and then his second son continued improvements at the estate. The estate once more turned to Camstage for its cinema needs.
Mark Getty oversaw the opening of the Garsington Opera at Wormsley. His vision for the estate includes allowing more access to the family's rich collections and developing more cultural events and the sporting life. Whilst Wormsley remains first and foremost the Getty family's private home, the estate is now inviting individuals and companies to host their own events on the site.
Camstage hopes to continue its growing relationship with the Gettys and their estates.
Camstage was formed in 1989 and is known as a leading UK supplier to the cinema and theatre industries. Products include projection screens, stage curtains and acoustic wall panels needed in cinemas, theatres, places of worship, crematoriums, educational facilities, home cinemas and other venues. Services include design, installation and maintenance.