Camstage installs huge screen for Mamma Mia! at the 02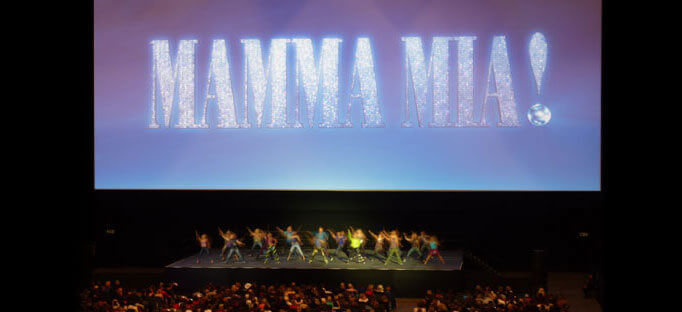 Camstage Ltd. helped make possible the biggest screening and singalong ever of the hit film, MAMMA MIA!
A Camstage crew installed a specially built 108-foot screen at the O2 Arena in London. An audience of 12,000 was dressed to impress in MAMMA MIA! gear and belted out classic ABBA hits. The entire London cast of the hit stage show gave a unique performance to the audience before the screening.
Mamma Mia productions hired Camstage to install its Harkness Screens Matt Plus screen for the two-showing event in January 2010. The screens are considered by leading cinema exhibitors worldwide to be the best matt white projection surface. The flexible PVC-based material is manufactured to a unique formulation and specification providing wide viewing angles, high contrast, bright pictures and excellent colour temperature.
Camstage, which often works with Harkness, was formed in 1989 and is known as a leading UK supplier to the cinema and theatre industries. Products include projection screens, stage curtains and acoustic wall panels needed in cinemas, theatres, places of worship, crematoriums, educational facilities, home cinemas and other venues. Services include design, installation and maintenance.