Projection screen frames with moving masking systems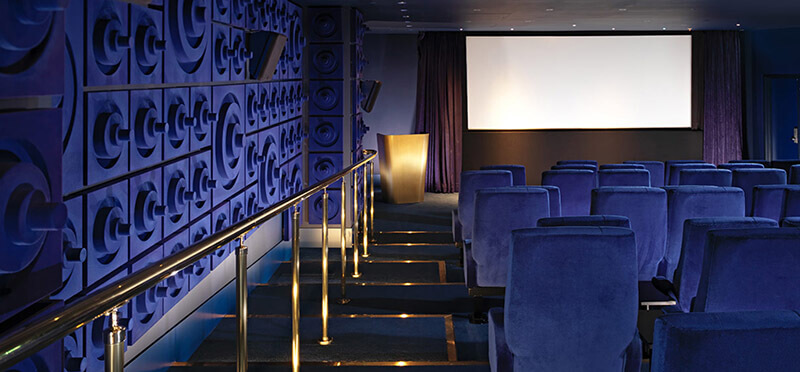 We are one of the leading suppliers of cinema projection screens and frames and work for all the UK's major cinema chains.
Because auditoriums come in all shapes and sizes, so too do cinema projection screens. So there's no such thing as one size fits all - each screen and frame is bespoke.
Moving masking systems are used to mask out the outside of your projected image, for example, two stop masking's are used in most mainstream cinemas using formats 1.85:1 and 2.39:1. Formats are different picture sizes, moving masking cloths come in or out over non-projected parts of the screen giving your audience the illusion that you are using all parts of this projection screen surface therefore giving your customer a better experience.
Depending on how many formats you're showing will determine what type of moving masking controller you would require. If you have two formats, you'd need a two-stop controller or you may show multiple formats, so you'd need a multi-stop controller with three stops, five stops or more.
Do you have a multi-use venue? You may need a crossover masking which completely closes off the screen area when it's not in use. For an example your auditorium has a screen on the stage for presentations, but later that evening you have a comedy club or place of worship and need to cover the screen, closing it off from the public. Maximising the potential of your space.
Depending on what shape of the room will determine what type of moving masking system we would advise.
Do you have a wide cinema room? We would advise a linked side moving masking with a fixed top and bottom mask.
Do you have a square cinema room? We would advise top moving masking or perhaps a linked top and bottom moving masking with static side masking.
Do you have a larger squarer cinema room? We would advise side moving masking with an independent top moving masking or perhaps a linked top and bottom moving masking system.
Do you have an auditorium for alternative content or does your space have a stage? You may want the moving masking to do different things instead of having them linked. You may have independently moving top masking and an independently moving bottom masking with static sides. You may need an independent side masking for presentations, for example where you need content on the screen but you also have a presenter who can stand to the side. You need a combination of all independent top, independent sides, independent bottom or as crossover masking so the screen is hidden, you can have a truly versatile auditorium for any need or occasion.
Frames can incorporate speaker platforms with servicing platforms and access ladders, for safety we can include safety rails, fall arrest systems, safety lanyards and harnesses. We have an extensive choice of projection screen surface's including matt white, gain screens, 3D silver screens, all our screen surfaces are available with perforation. Perforation lets the sound through the screen surface. Our frames can be curved and or made tilting back if required.
Our experienced in-house team will work with you to create the right screen system for your space. If you need them to, they can advise you on the correct screen surfaces for your environment and intended use. Click on the 'Screen surfaces' button above for more information.
Each screen and frame will be installed by our expert team, we also offer a repair and preventative maintenance service to ensure your products longevity and running quality.
There are many types of screen frames for professional cinemas including wrap (halo), fixed and moving masking for the side, top, bottom or combinations. Click on the 'Frame types' button above to learn more in our Knowledge Base article.