Camstage behind scenes of many September openings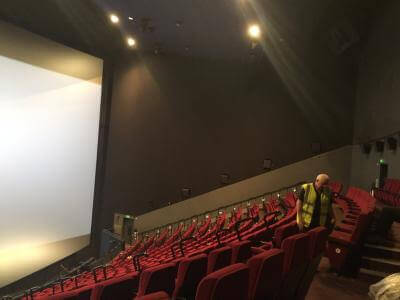 The calendar may say January is the start of a new year. But for many performance spaces the new season kicks off in fall. That schedule means Camstage Ltd. based near London is busy. That is expected for one of the UK's leading providers and installers of all things needed at professional commercial cinemas and theatres as well boutique hotels, digital studios, and classrooms or spaces for students of all ages. We will come back with detailis but here are some places where Camstage has been in September:
The long-awaited Mondrian hotel opens Tuesday, Sept. 30, 2014, on the Thames River in London's Southbank neighborhood. Among the changes and treasures inside is a 56-seat boutique cinema that has state-of-the-art audio and visual equipment. Camstage was selected two years ago to install the screen, moving side masking, curtain track and curtains in the luxurious cinema designed to attract the film industry.
Patrons at Fairfield Hall in Croyden now enjoy a new rolling screen that includes a safety device designed by Camstage.
Major renovations at the BFI IMAX Waterloo required protection for the huge cinema screen. It went up and it came down.
A new rolling screen is up in Gurnsey's community center. The update on the island's theatre is in the Beau Sejour Leisure Centre.
In Cumbria, at the Brewery Arts Center, Camstage fixed a noisy screen and did preventative maintenance on two other screens.
At the University of Suffix, we installed a track and laser-proof curtains.
Annual preventative maintenance and emergency care of screening equipment across the UK also kept Camstage crews busy.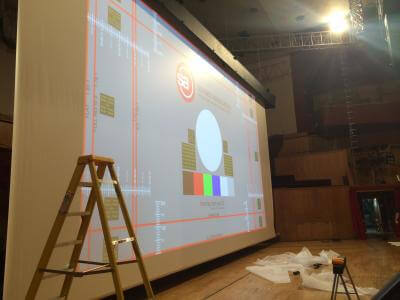 Camstage was formed in 1989 and is known as a leading UK supplier, installer and maintainer to the cinema and theatre industries. Products include projection screens, stage curtains and acoustic wall panels needed in cinemas, theatres, places of worship, crematoriums, educational facilities, home cinemas and other venues. Services include design, installation and maintenance.
Email us anytime at info@camstage.com or call tel:+44(0) 1727 830151 Mondays through Fridays 9 am-5 pm GMT for more information.