Camstage back with more curtains at Ipswich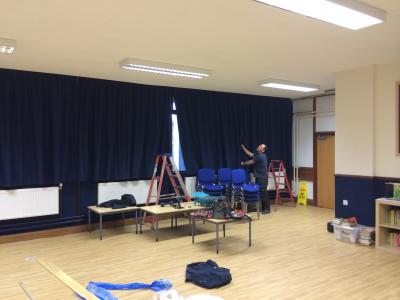 Ipswich School in Suffolk once more asked Camstage Ltd. for help in its classrooms.
Camstage, a UK firm that includes project management and design in its skill set as a leading performance space provider, returned to install curtains in seven more classrooms at Ipswich School.
Camstage installed new tracks and sets of navy blue curtains and matching linings in the classrooms. The work was completed in time for Ipwich's annual open house for prospective students.
The curtains and track match what Camstage did in 2013. Camstage's relationship with the private school for students age 3 to 18 began in 2012 when the company installed stage curtains. Read more about Camstage's previous work at the school online   
Ipswich School is a co-educational and boarding school which can trace its senior school start to 600 years ago. The newest school is its nursery facility.
Camstage was formed in 1989 and is known as a leading UK supplier to the cinema and theatre industries. Products include projection screens, stage curtains and acoustic wall panels needed in cinemas, theatres, places of worship, crematoriums, educational facilities, home cinemas and other venues. Services include design, installation and maintenance.
Email us info@camstage.com or call +44(0) 1727 830151for more information. 
Posted 12 September 2014