Camstage works on award-winning JCB headquarters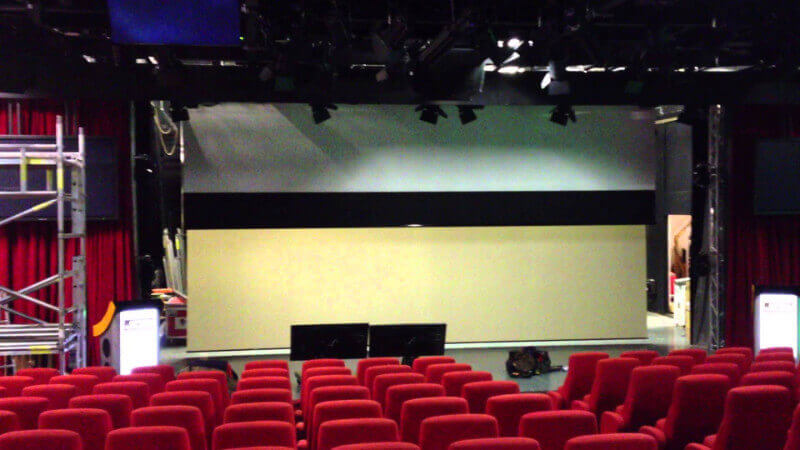 An updated theatre at JCB's global headquarters earned Feltech, the project managers, a top industry award. Camstage Ltd. contributed to the project, including installing energy efficient curtain motors.
The remake of the JCB Presentation Theatre earned Feltech the AV Business Installation of the Year award for 2013. The AV Awards are the most important awards competition in Europe for the professional audio-visual industry.
"Camstage is proud of its work with JCB and congratulates Feltech on this honour," said Franco Camastra,  a director at the UK stage supply company.
JCB is a globally recognised construction and agricultural machinery manufacturer. Feltech offers services in the audio visual systems, broadcast, systems design, installation and maintenance sector.
Upgrade focus on flexible space
The 250-seat JCB Theatre in Rochester, Staffordshire, England, is used daily for a wide range of events. Some events are done once - like a press conference or product reveal. Others, like a presentation that is part of factory tours, are repeated. The objective of the theatre upgrade was to create a professional, flexible space while reducing reducing energy use..
JCB wanted a broadcast quality system for its communications operation center. The team needed a robust platform with a good workflow so it could easily produce events, product reveals, outside broadcasts and films.
Although JCB began talking with Feltech about the project in 2012, the go-ahead didn't come until February 2013. The project came with a deadline: Be done by the JCB Global Dealer Conference in April 2013. The conference, JCB's largest, would bring together the company's top executives and customers.
Feltech knew the way to meet its goal was to include quality vendors who could deliver what they promised on time and on budget. Those vendors included MW Video Systems, which provided technical furniture for the broadcast center, DB Show Control and Camstage, which had worked at JCB before.
Camstage offers solutions
While developing a state-of-the-art theatre plan, JCB and Feltech asked Camstage Ltd. for suggestions. The challenges included:
Installing a projection screen that would quickly go up and down during product reveals and other presentations.
Hanging stage curtains that could open and close at different speeds to allow JCB to orchestrate presentations with variable speeds.
Configuring a masking system with multistops for the projection screens to allow for variable film dimensions.
Camstage solved those challenges, including installing two screens  as well as other equipment to make the theatre work for JCB's varied productions and events. The project included replacing a solo  front-projected screen on the main stage with a custom made cinemascope automated screen with a fast deployment time. A Christie Roadster full HD projector provides 12,000 lumens of HD image with a hot spare.  The main projector is complemented by two repeater 85 inch plasma screens, either side of the main stage.There is also a rear projection system for more conventional meetings and seminars.
"Direct communication, a 'can-do' attitude and transparency are essential with a complex project such as the JCB Theatre." said Nevil Bounds, one of the project managers at Feltech.
Those are familiar mantras to Camstage: "We work in the background getting the job done," Camastra said. "We let people know what we can do, when we can do it and then we do it. That what we do."
Goal: Save energy
Reducing energy use also is a priority for JCB, said Peter Marsland, video production manager at JCB. Marshland praised Feltech for moving to LED lighting in the theatre, which saved about 75% of JCB's energy bill.
Camstage's work also contributed toJCB using less energy use.
"Camstage installed energy-efficient curtain motors, masking motors and roller screens," said Camastra.  "We knew energy savings and protecting the environment were big concerns at JCB because of our previous work with the company."
Replacing older motors that power the opening and closing of curtains often can reduce electricity use by as much as 50 percent. Camstage regularly suggests companies replace motors installed on curtain tracks before 2015 with energy efficient motors as they will pay for themselves in just few years, Camastra said.
The  advances in the field include energy efficiencies, detection and automatic shutdown due to thermal overload and automatic end of travel limits.
New roller screens can save energy
Newer roller screens also offer energy efficiencies for customers, Camastra said. "We kept the energy goal in mind as we reviewed possible screens for JCB."
After installation of the screens, Camstage employees tested the screens to ensure smooth operations, as this video shows.
About the AV Award
In the awards competition, companies were judged on the organisational use of the facility, including sales to customers, the technical systems, the project objectives and the effectiveness of project management. Entries included a user assessment of the value and effectiveness of the system. Also needed was evidence from the customer. A case study further outlines how Feltech pulled the project together.
The high-tech multimedia renovation of the theatre also earned Feltech a finalist spot for the InAVation Awards in 2014.
JCB, founded in 1945, is a world-renowned construction and agricultural equipment company. It has 22 plants and 750 dealers. Over the years, JCB hired Camstage for help on product launches. Most famously was the launch of the Dieselmax car, which has the record for world's fastest diesel car at 350.092 mph
Feltech was formed in 1989 and has built a reputation for delivering exceptional results across the industry, from audio visual and broadcast systems design and installation to running large scale international events.
Camstage was formed in 1989 and is known as a leading UK supplier to the cinema and theatre industries. Products include projection screens, stage curtains and acoustic wall panels. Services include design, installation and maintenance.