Camstage discovers latest cinema innovations  at CinemaCon 2018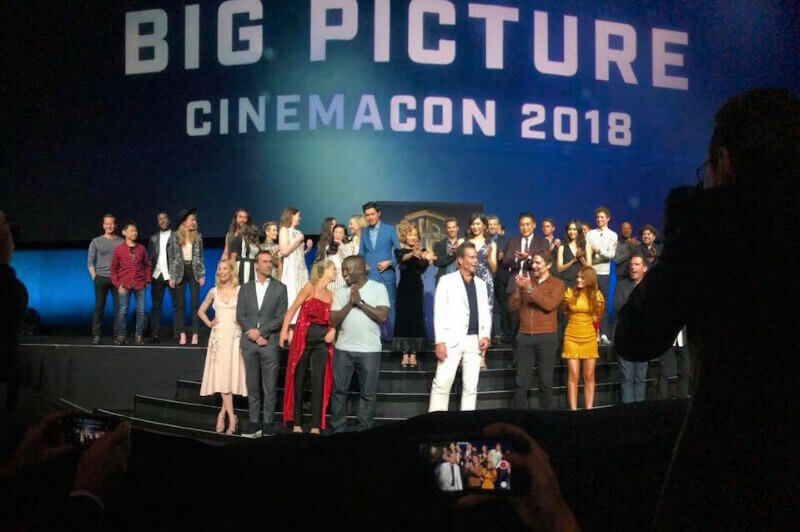 Screens, seats and snacks dominated Camstage Ltd.'s recent visit to the 2018 CinemaCon in Las Vegas. 
Representatives from the UK-based Camstage  came back from the world's largest cinema trade show  loaded with specs, samples and ideas for their growing base of professional cinemas, theatres and other performance spaces. 
The innovations in screens, especially a foldable screen from Severtson Screens, were impressive," said Franco Camastra, managing director of Camstage. "And, owners are going to love the  self-illuminating screen unveiled by Samsung Electronics."
The trade show included 27 vendors specializing in screens, 36 with seating, 29 digital cinema projectors and nearly 150 businesses showcasing candy, confections, beverages and other items for concessions stands. Other vendors pitched options to cover floors, walls, and ceilings. 
Also on display and demonstrated were new ways to keep customers at the cinema longer, or perhaps entice them to come out to play.
Experts share advice for successful cinemas
The annual CinemaCon is more then a trade show. Panels of experts shared opinions and advice to help cinema owners keep patrons coming through the doors. 
The movie remains the prime draw but cinema owners can supplement that with interactive movie posters, virtual reality experiences based on a movie just watched or photo booth options with the big-screen stars.
Still owners were reminded how important inside the screening room is and the need to provide screens, seats and other amenities that take advantage of the technology movie studios are adopting.
Some of those technologies shined when the studios shared previews and plans of their upcoming blockbusters.
Equally important is the comfort of the patrons, attendees were told. 
Take seating, which often is bigger and more complicated then what some now have in place. Many vendors showed reclining models. Some are poised to take advantage of movie tracks that control a seat's movement — far more complex today with the possibility of bubbles, rain, wind, lightning, scent, motion, vibration, and other effects. Some seats are equipped with call buttons for concession delivery. Those deliveries can help offset the lower number of seats per square foot, conference attendees were told.
"We are bringing home many ideas to help our clients remodel their businesses," Camastra said.
Community key to cinemas' profit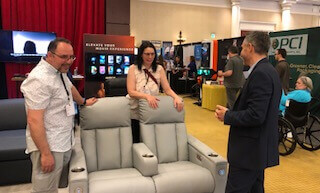 Global Road chairman and CEO Rob Friedman reminded cinema owners to play to their strengths of being a community place. 
"As human beings we want to experience this communal experience that cannot be replicated," he said. "You cannot compete with seeing a movie with an audience no matter how big your TV screen or how many channels you pump into the room."
The importance of community came up again with advice to look to local businesses and organizations as potential partners to use screening rooms for a variety of events.
Camastra said it was encouraging to hear that despite the growth of alternative platforms like Netflix and Amazon, cinema attendance also is growing. In fact, the global box office was up 5% in 2017. 
Screening room key to bringing cinema patrons back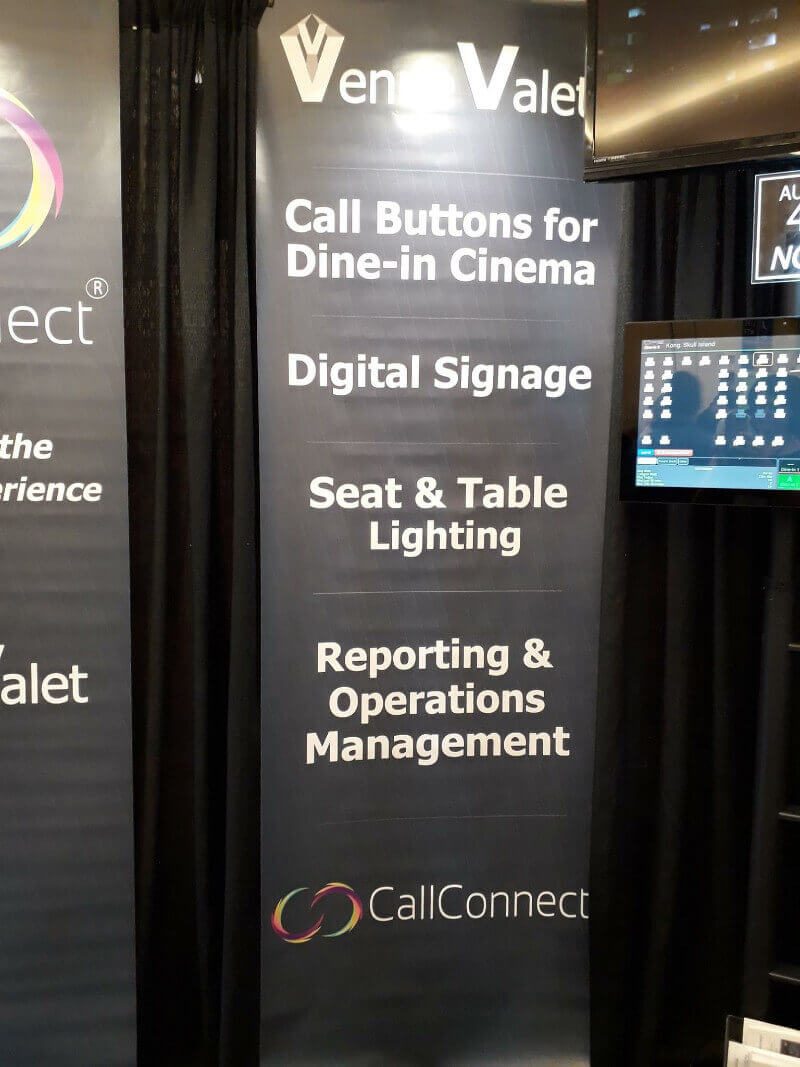 Back at the trade show, the key emphasis was on service and comfort, said Camastra.
With so many options to watch movies, cinemas need to be on top of their game. Cinemas distinguish themselves by providing comfortable places with outstanding service, Camastra said. 
That might start in the lobby with self-ticketing kiosks. Or it could start outside the theatre with several products aimed at matching patrons quickly with movie, time and place.
Equally important is inside the screening room where people demand comfortable seating in a clean environment while watching the latest movie. New screens and acoustical improvements, both specialties of Camstage, take advantage of the special effects embedded in the latest movies.
Seats range from individual recliners and loungers to connected recliners that maintenance can lift the feet easily to clean after the movie. Chair accessories range from the already popular cup holders to new food holders that fold or stay in place. Those tables increase the facilities flexibility by giving special event attendees a place to take notes or use a computer, Camastra said.
And let's not forget the cellphone holders that make the reminder to turnoff the phones before the show moot.
"Our customers are going to love these updates for their cinemas," Camastra said. "We have ideas for those wanting a new cinemas as well as those renovating screening rooms."
Camstage was formed in 1989 and is a leading UK supplier to cinemas and theatres. Products include projection screens, stage curtains and acoustic wall panels needed in cinemas, theatres, places of worship, crematoriums, educational facilities,and other venues. Services include cinema design, cinema renovations, stage equipment installation and emergency repairs for screens or stage equipment . Email us info@camstage.com or call +44(0) 1727 830151 for more information.
Published June 14, 2018