Refurbishing older cinemas with new acoustic walls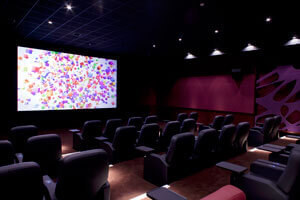 In their 1930s heyday, cinemas certainly lived up to their Picture Palace billing with grand, elaborate interiors that featured carvings and plaster decoration.  
Sadly many of these buildings have disappeared; others have been converted into bingo halls, and those that haven't already been refurbished are often ill equipped for digital sound. That means the experience for the audience won't be nearly as good as it is in modern cinemas.
Sound bouncing around the space can make it difficult to follow the soundtrack of some films, particularly ones that feature heavily accented speech or regional or cultural dialogue.
As well as sound issues, unless they have been well maintained, the interior walls will be showing the typical signs of old age such as crumbling and cracks.
Reverberation
With digital, much more than acoustic soundtracks, reverberation has to be controlled to a very high standard. Sound will bounce from wall to wall and floor to ceiling. And all those elaborate 1930's decorations protruding from the walls add to the problem.
Sound is deadened by the carpet and seating, so it's the walls that need particular attention.
The good news is, acoustic wall treatment can address both sound, and wear and tear.
What is acoustic wall treatment?
Just to add a level of confusion, there is more than one name for this type of treatment. It is also known as:
    Acoustic softwall treatment
    Acoustic panelling
    Acoustic wall systems
    Acoustic stretch wall
We'll refer it as acoustic wall treatment throughout this article.
What it is and how it works
Acoustic treatment absorbs high levels of reflective noise within a space.
The system consists of a plastic frame, in-filled with sheets of foam and covered with stretch fabric.
The design is marked out directly onto the walls. The plastic is cut to the design and each individual piece is fitted to wall to create panels or a continuous stretch. These are then infilled with foam. The final step is to cover the foam with cloth, fitting it into the frames.
Camtek is our own product and it forms the core of Camstage acoustic panels. It's a flexible, lightweight melamine-based acoustic foam. It provides a high sound absorbency, and has a Class 0 fire specification.
The foam sheets have a standard depth of 32mm, which can be increased to 50mm. The extra depth panels are usually installed on the back wall of a cinema to cut down the sound from the projection room.
Because cinema auditoriums come in all shapes and sizes, and not all walls are uniform - particularly in older buildings, the panels are built on site.
Any stretch fabric can be used so there is a very wide range of colour and design from which to choose. This makes the panels extremely flexible as they can be tailored to individual specifications and design themes.
Pleating
Pleating is another way to improve acoustics in a room.
Timber frames are fixed to the walls and fabric is stapled on the top and bottom timbers. The pleating is done in situ and the acoustic treatment is placed behind. Either Camtex foam, rockwool or Lamaphon slabs can be used behind the pleating.
It can also be used for aesthetic purposes, and it's a very cost-effective way to cover up cracks and hide wiring.  
Related Knowledge Base articles:
Acoustic wall qualities and criteria for professional cinemas
Choice and application of different projection screen surfaces