Converting sports, community, and school halls for stage, screen, more
There are many reasons why you may want to convert a space such as a sports, school or community hall for use as a theatre, cinema, or both.
The most usual reason is to maximise the potential of a space, possibly as a revenue stream, or maybe simply to make better use of it.
While a community hall may already have a stage, with a bit of work it can be successfully converted for screening films as well as live theatre performances.
And a school sports hall can be maximised by converting it for use as a theatre for drama lessons and performances, as well as for screening films.
However, there are several factors to consider with each of these scenarios. It's not simply a case of installing a stage or having a temporary screen – particularly if you'll be inviting a paying audience.
So let's take a look at some of the things you'll need to think about if you've been tasked with kitting out a hall for dual or multi use.
Considerations
Acoustics – you'll need to find a way to prevent sound leaking in and out of the space – particularly in a school with classrooms next to the hall. And you'll need to control reverberation, which will distort sound -not great for film screenings or live theatre.
Does the space already have a stage grid system? If not, it could be a useful investment.
Curtains and their mechanisms – where will the curtains hang and why do you want them? This determines the type of track you'll need, as does the shape of the room. Who will operate the curtains? You'll need to think about this when choosing the curtain weight and type of mechanism.
Storage – when choosing curtains, tracks and mechanisms, and when you're selecting a screen, storage space has a big role to play in the type you choose.
Now let's look at each of these in a bit more detail.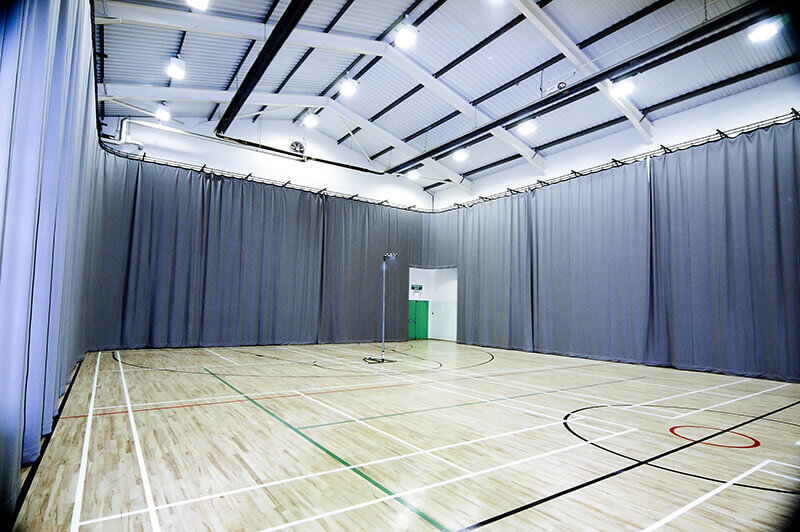 Acoustics
The term 'acoustics' is defined as: 'the properties or qualities of a room or building that determine how sound is transmitted in it.' And getting the acoustics right is vital for good audience experience, whether they are viewing a film, watching live theatre or listening to music.
Reverberation is a problem in spaces that weren't originally intended to be used as a cinema or theatre.
Sound bounces from wall to wall, and floor to ceiling. Wooden flooring and highly reflective surfaces, such as windows and mirrors, will cause problems too. The latter can be addressed with curtains.
During live theatre in a large space, without a way of controlling sound, by the time speech from the stage reaches the back of the hall, the words will be very difficult to hear.
Curtains are a good way to control acoustics but you may also want to consider acoustic wall treatments.
Acoustic wall treatments are designed to resolve the problems of reverberation and noise leak. They are specifically tailored to each space to allow for individual characteristics such as size, shape, and design themes. 
Different types of acoustic treatments
Acoustic wall treatment
This is also known as:
Acoustic softwall treatment
Acoustic panelling
Acoustic wall systems
Acoustic stretch wall
We'll refer it as acoustic wall treatment throughout this article.
The system consists of a plastic frame, in-filled with sheets of foam and covered with stretch fabric.
The design is marked out directly on to the walls. The plastic is cut to the design and each individual piece is fitted to the wall to create panels or a continuous stretch. These are then in-filled with foam. The final step is to cover the foam with cloth, fitting it into the frames.
Camtek forms the core of Camstage acoustic panels. Our own product, Camtek is a flexible, lightweight melamine-based acoustic foam. It provides a high sound absorbency, and has a Class 0 fire specification.
The foam sheets have a standard depth of 32mm, which can be increased to 50mm. The extra depth panels are usually installed on the back wall of a cinema to cut down the sound from the projection room.
Because halls come in all shapes and sizes, and not all walls are uniform - the panels are built on site. Any stretch fabric can be used so there is a very wide range of colour and design from which to choose. This makes the panels extremely flexible as they can be tailored to individual specifications and design themes.
Pleating
Pleating is another way to improve acoustics in a room.
Timber frames are fixed to the walls and fabric is stapled on the top and bottom timbers. The pleating is done in situ and the acoustic treatment is placed behind. Either Camtex foam, rockwool or Lamaphon slabs can be used behind the pleating.
Pleating is one of the oldest ways of controlling sound. It can also be used for aesthetic purposes too and is a very cost-effective way to cover up cracks and hide wiring.
Stage grids
All professional and amateur theatres have stage grids. They are the starting point onto which a variety of pulleys and bars are attached, from which lighting or scenery is suspended above a stage and operated.
Stage grids are also known as fly systems or theatrical rigging. In a theatre, they allow the stage crew to quickly and quietly move equipment such as curtains, lights and scenery.  And of course they are also used to 'fly' actors across the stage on hoists if the production requires it.   
The grid system can be raised and lowered to make to easy to change components such as lights. There are four types of operation:
Rope - raised and lowered by hand
Cable – operated with hand winches
Pile wind – used mainly in larger theatres, they are electrically operated and can be used with automated systems
Counter weight system – used in larger theatres with lots of head room above the stage
If you've been tasked with converting a sports, school or community hall for use as a theatre and/or cinema, you'll need to begin with a stage grid.
Curtains will be needed for the stage and perhaps to divide the room.
The track from which they'll hang will be fixed to the grid, and connected to the appropriate mechanism, which we'll cover later. 
Flexible lighting will be another important element, particularly for theatre, and this too will be fixed onto the grid.
Curtains
As well as being a necessity for the stage, curtains can also be a flexible and cost-effective way to divide a room for dual or multiple use, or to control acoustics. Clever use of the right type of curtain, with the appropriate mechanisms and tracks, can transform a room without the need for expensive and disruptive building work.
Let's use a school hall as an example, and let's suppose it's going to be used for lessons as well as a drama studio and theatre.
For drama, it will need a curtain all around the room. The curtain could in a number of pieces to give flexibility to the types of production that can be performed. It will also help to stop sound travelling into other classrooms and vice versa.
The curtain will need to be easily moved and compactly stored to convert the studio or theatre back for normal use.
The weight of curtain will be dictated by three main factors: use, where they will hang, and who will operate them. For example, they can't be too heavy if they are to be operated by children.
Tracks
The choice of track depends first of all on the weight of the curtains you intend to hang from it. There are other factors too such as the type of mechanism you'll be using to operate the curtains, the application, and of course, the size and shape of the space. Here are the main types of track we recommend when converting a hall for dual purpose:
Lightweight
This type of track is usually aluminium and can be used on small stages, and in venues such as community or civic halls, churches and crematoriums. It's not intended for use on a professional stage.
It has a good range of uses for example with window curtains, or blackout curtains in schools and colleges.
Medium/heavy duty tracks
These are used in professional theatres. A steel cable inside the track winds onto a winch, which is operated by hand or is electrically driven via an exterior motor. It can also be a cord or walk a along operation. Some applications will use an electrically driven chain or belt.
Heavy duty tracks
The mechanism is the same as above and they are used in large theatres, TV and film studios.
Banjo track
You can't change the colour of a black backdrop curtain at the rear of stage using lights, so you use a banjo track. It spins the black backdrop around so that a coloured curtain, or it could be a cyclorama cloth, on the other side comes to the front.
You can change every curtain on the stage, or in the wings, using this type of track.
The track is on a raise or lower system to make it easier to changing scenery or curtains.
Switch point track
This track has a point system – rather like a railway track – which allows you to alter the direction of the curtains or to stack them.
The point system allows you to move the curtain onto another track. The system is used on a professional stage when the curtain needs to be stacked off stage in one of the wings.
The track comes in all shapes and sizes, and the points are changed with a pull lever.
Curtain track mechanisms
The choice of mechanism depends on the type of curtain and track, what the curtains will be used for, and importantly, who will be operating them.
Storage is another consideration as some of the mechanisms are bulky and take up quite a bit of space.  
There are six different types used in theatre:
Electric – this makes heavy-duty curtains much easier to operate. It makes it easier and faster to move curtains and is preferred by professional theatres, that will have a lot of scene changes, for use with front of house curtains.  
Hand winch with steel cable (wall or floor mounted) – this is used only with the front of house curtains and usually in smaller to medium size venues such as school and community halls.
Cord operated with a weighted or floor tension pulley. The cord is pulled by hand and can be used with most tracks .It can be used for backdrops, intermediate (centre stage curtains) and front of house curtains in smaller venues.
Walkalong – a good option for a school or community hall. It can be used with a perimeter track or to divide a room for example.  
Chain drive - electrically driven and will drive any of the medium to heavyweight tracks. A chain track with master carrier is highly versatile and competitively priced. The low noise motors are variable speed with optional encoders for positional control and they can run through 90°, 250mm radius curves.  These features make them ideal for crematoriums. They are also suited to theatres with a raise and lower bar system. The motor is attached to the track so you don't have to worry about the cables coming off the drum when you lower the bar to change the curtain.
Belt driven system - suitable for medium weight applications up to 10m long. Excellent where there isn't enough room to mount a conventional curtain controller. It's ideal for schools and multi-purpose venues. As with the chain driven system, it's suited to theatres with a raise and lower bar system but because of its limitations, it's more often used in medium sized venues. ,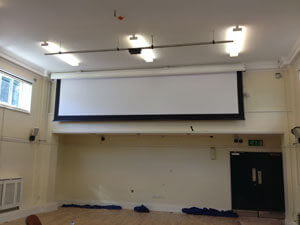 Screens
Roller screens are the best option for dual or multi-use spaces because they are easy to move and store when they're not in use.
As the name suggests they roll up and down, and are electrically operated.
Roller screens come with a choice of all surface types such, as Perlux and matt white, which can be perforated. They can also have painted top, bottom and side masking, and even moving side masking on a T60 track or separate side rollers incorporated in a bespoke mechanism.
Some 3D films use other types of surface, which can also be used with rollers.
Roller screens can be bought off-the- shelf up to 7m after which they are purpose made.
The majority drop from the ceiling. Some can rise from the floor but they are extremely expensive and need a lot of maintenance. They are also limited to size, and matt white is the only surface available. 
The two-thirds rule
Large format roller screens are usually fixed at the top of a wall. However there is a inherent problem with the screen surface known as the two-thirds rule.
If the height of the screen is more than two-thirds of its width, the surface will curl and flute.
If there is not enough room to accommodate a flying frame, a raise and lower pile wind system can be used.
Flying frame
If there is enough room above the stage, you can use a flying frame. Like a standard fixed wall frame it can be a wrap (halo), fixed masking, moving masking side, top and bottom, or a combination.  You can even mount speakers to the frame depending on the bar's weight certification. However it is advisable to use the bar directly behind the frame for the speaker.
Related Knowledge Base articles:
KB2 - Refurbishing older cinemas with new acoustic walls
KB5 - Choice and application of different projection screen surfaces