Wyeside squeezes Camstage in to fix roller screen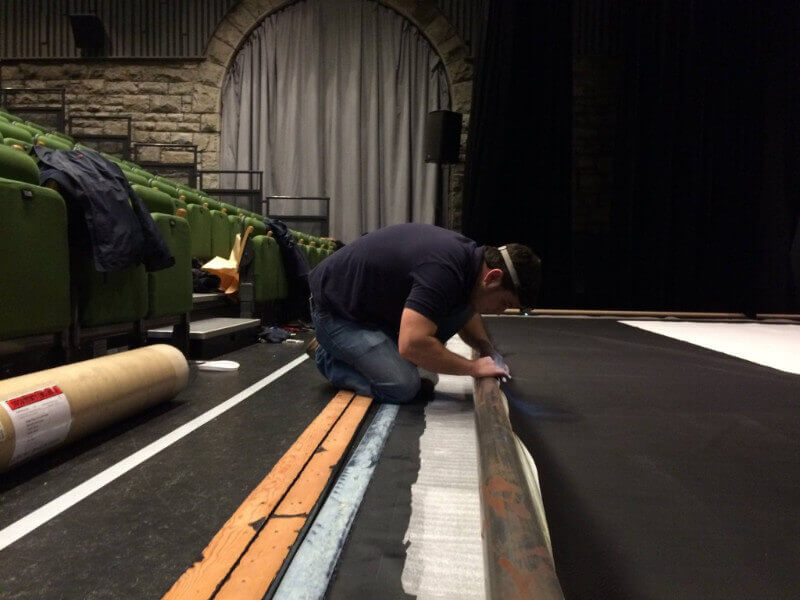 Wyeside Art Centre in Wales chose Camstage Ltd. for an overdue update of its roller screen and other updates in one of its cinemas. The Centre's roller screen mechanism was close to 25 years old and had survived one move. The screen also had been used a long time and now was dirty and torn.
The operational staff at the Centre, in Builth Wells, Wales, found Camstage, a leading UK designer, installer and maintainer of cinema equipment, through its web site. But Camstage soon realized it was a return trip. A Camstage crew had installed the original roller screen.
This trip Camstage changed the cables on the roller screen box and serviced the pulleys. Then it replaced the torn and dirty screen. The new screen is 7.5 x 5m, matt white, and perforated so sound can go through the screen. Its bottom roller mechanism rolls into a box above the stage to allow live performances on the stage. It took several weeks for Wyeside to find an opening in its schedule for Camstage. The well-loved community centre on the Wye river banks is a presenting venue for live and visual arts and cinema.
Wyeside, found online at http://www.wyeside.co.uk/ offers a varied programme in its two cinemas and other rooms. Live arts include theatre, music, comedy and dance. The Centre's excellent facilities, which include a third screen, often are rented by businesses and organizations.
Camstage was formed in 1989 and is known as a leading UK supplier to the cinema and theatre industries. Products include projection screens, stage curtains and acoustic wall panels needed in cinemas, theatres, places of worship, crematoriums, educational facilities, home cinemas and other venues. Services include design, installation and maintenance. Email us info@camstage.com or call +44(0) 1727 830151 for more information.